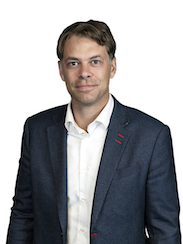 Luke Bergerman is our newest partner. Luke joined MJB Lawyers in 2010, after completing his Bachelor of Arts (Honours) and Juris Doctor from the University of Saskatchewan.
Since being called to the BC bar in 2011, Luke has worked in MJB Lawyer's civil litigation department. He has appeared in all levels of court in British Columbia including the Court of Appeal, Supreme Court, and Provincial Court. He has also handled claims through various administrative boards and tribunals such as the Human Rights Tribunal, the Employment Standards Tribunal, the Vehicle Sales Authority of BC and the Real Estate Council of BC.
Luke prides himself on helping people resolve all kinds of legal issues including personal injury, estates, employment, contracts and collections. We're excited to add Luke to our list of partners as he will help us continue to provide high quality, professional legal services to the residents of Kamloops and the Thompson-Nicola region.