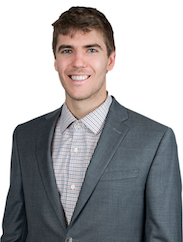 Alex is an associate lawyer with MJB Lawyers. He is developing a general litigation practice including disputes related to property, construction, employment, collections, and estates.

Alex was born and raised in Kamloops but attended undergraduate studies at the University of Victoria, and then received his Juris Doctor from the University of Calgary. During his studies, Alex was employed in the summers at BC Wildfire Services as a helicopter initial attack firefighter, based out of Kamloops.
Alex is excited to be back in B.C. and to have the opportunity to build his practice, providing legal services to Kamloops and surrounding community. Outside of work, Alex enjoys horseback riding, fishing, hiking, soccer, and camping.